DEL SUR ELEMENTARY (CA)
$55,061
For teacher technology and STEM
Amount profited with previous fundraiser: $15,000
RIDGEVIEW ELEMENTARY (TX)
$33,000
for Outdoor Improvement
Amount profited with previous fundraiser: $10,360
CRYSTAL SPRINGS ELEMENTARY (WA)
$31,061
for playground and STEM
Amount profited with previous fundraiser: $15,000
OVER 3 MILLION STUDENTS SERVED AND MORE THAN
$80 MILLION RAISED FOR 5,000 SCHOOLS IN 32 STATES
Have you ever seen an Apex Leadership Co. Fitness Event Fundraiser in action? We combine four important skillsets for students — education, fitness, leadership, and raising money for their school — in our powerful school programs across the nation. Our focus is to create hassle-free fundraising events virtually that help build and empower our leaders of tomorrow while also raising donations for your school. Through our advanced online platform, you will be able to maximize your fundraising efforts with our Share Wizard, while offering the ability for sponsors to donate using contactless payment through our Quick Collect option. Feel free to rely on our team of athletes to do the heavy lifting of handling your next fundraising event safely.
WHAT IS APEX VIRTUAL?
At Apex Leadership Co. we build tomorrow's leaders today — while simultaneously raising more money for your school with our hassle-free approach for busy volunteers. In an effort to make your school's health and safety our top priority, all Apex employees have become Hygiene Heroes! Our athletes are Health and Hygiene Certified through the ChildCare Education Institute. We are dedicated to serving our schools with the excellent quality that Apex is known for, while doing our part to reduce illness. You can bring Apex to campus with full confidence that our team reinforces good hygiene in the classroom with our healthy tip of the day. Our powerful online platform maximizes your time, increases your reach for fundraising, and ensures safety for all with our contactless payment options with Quick Collect. Our team of athletes does the heavy lifting and teaches PBIS-based leadership lessons via video to students no matter if they are at home or on campus. We combine fitness, fundraising and leadership into a powerful program that builds your funds and your students' character education.
PEP RALLY
This is the start to your Apex Event! Apex is adaptable to your school's needs. We can do a live pep rally with smaller groups, or a Virtual Pep Rally. Our team will work with your campus to determine the best option.
Our Virtual pep rally is high-energy, attention-grabbing, and a great way to build a culture for your campus. The Apex Team reveals the lessons associated with the year's newly developed theme, prizes, how to get pledges and announce our Giveback partner.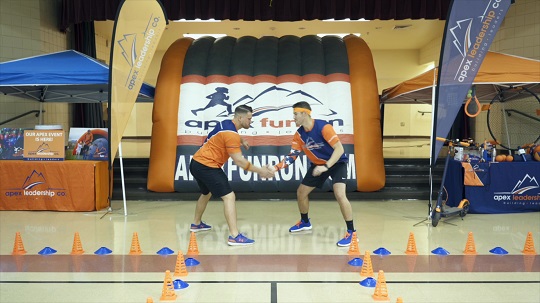 The spirit of the Apex Team is immediately apparent to the viewer and ramps up the excitement for the Apex Event! Our team members and team leaders have a huge service heart for children. Their goal every day is to build leaders and change lives.
TEAM DAYS
Each team day is full of leadership lessons, team building, and unique challenges. Apex is flexible to the unique needs of your campus.
We are proud to introduce The MIGHTY Show. The students will learn what it means to be mindful, show integrity, that grit is a powerful attribute, the importance of being a hero, and how to think ahead to the future, and then our final lesson as it's your turn to go out and make a difference! The Apex Team is thoroughly trained in CDC guidelines, as well as Health and Hygiene Certified through the ChildCareEducation Institute to ensure we provide the customer service Apex is known for, while doing our part to stop the spread of illness.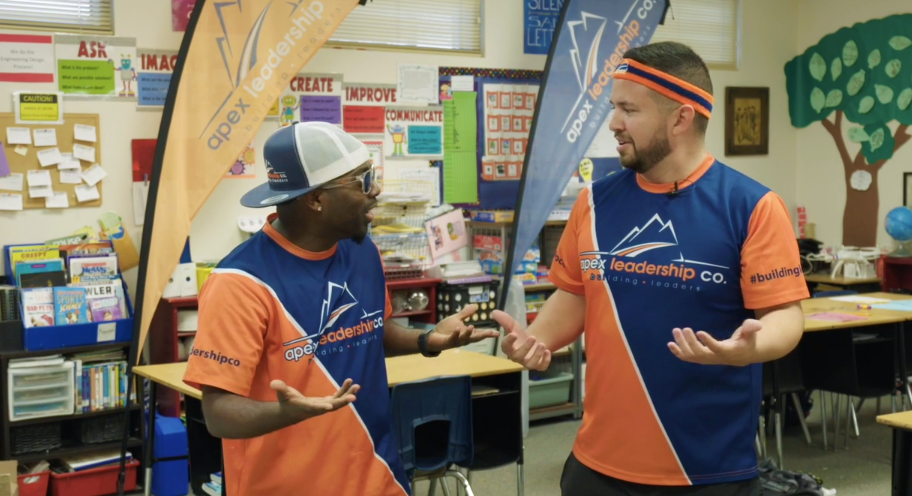 The Apex Team will deliver the daily leadership lessons and challenges via video for your students to enjoy on campus or at home. Or if safety allows, the Apex Team members can do live lessons in homerooms, taking CDC guidelines & safety procedures into account. In fact, our team will serve as Hygiene Heroes, reinforcing good hygiene in the classroom with our healthy tip of the day! Our team will work with your campus to ensure the best option for your unique needs.
FITNESS EVENT DAY
Our team can facilitate the Fun Run with smaller groups, our Remix Glow Event by class, or families can even participate virtually at home.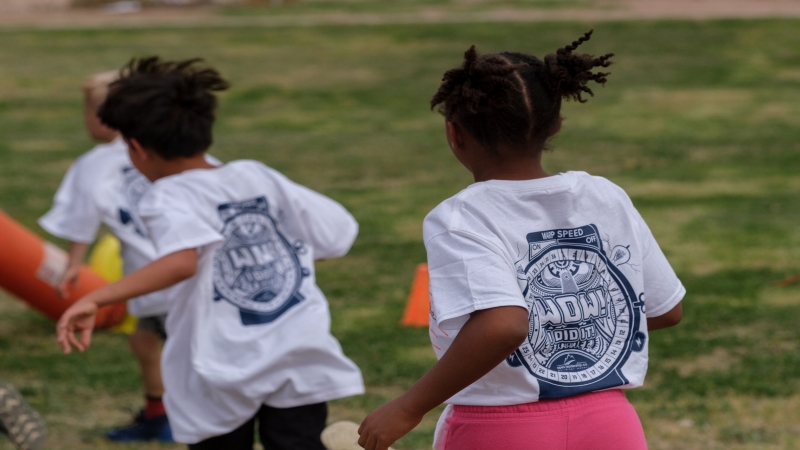 If students are on campus, our team can orchestrate the Fun Run during specials time to accommodate smaller groups of students on the track, allowing for social distance.
Our Remix Glow Event is a high-energy glow in the dark event that can take place in individual classrooms to promote social distance and safety. If students are not on campus, we can also host a Virtual Fitness Event for your community.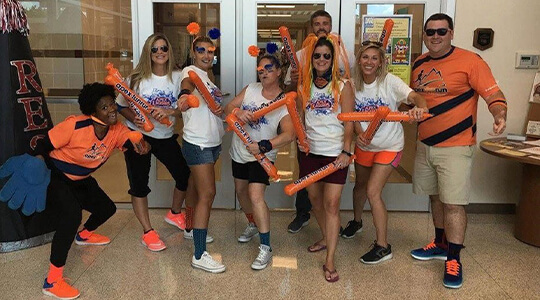 Apex collections are truly hassle-free! We now offer Quick Collect, which has your whole process wrapped up in about a week!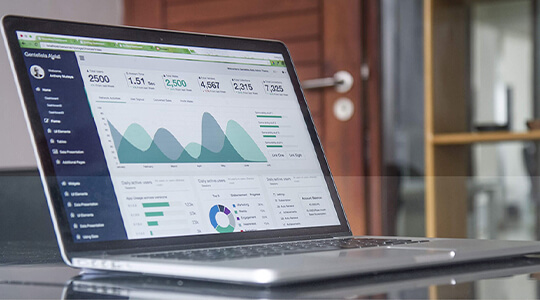 In real time, when money is raised, payments can be deposited straight into your bank account. We also offer alternatives if your school has another preference.
OVER 3 MILLION STUDENTS SERVED AND MORE THAN
$80 MILLION RAISED FOR 5,000 SCHOOLS IN 32 STATES