RIDGEVIEW ELEMENTARY (TX)
$33,000
for Outdoor Improvement
Amount profited with previous fundraiser: $15,000
SIERRA VERDE ELEMENTARY (AZ)
$26,657
for STEM Program
Amount profited with previous fundraiser: $10,360
RED MOUNTAIN RANCH (AZ)
$11,900
for projectors and family activities
Amount profited with previous fundraiser: $5,500
OVER 3 MILLION STUDENTS SERVED AND MORE THAN
$80 MILLION RAISED FOR 5,000 SCHOOLS IN 32 STATES
The primary goal here at Apex Leadership Co. is to provide a new and innovative platform to build the leaders of tomorrow while simultaneously helping their schools raise money. One of the many ways we do that is through a fun run obstacle course fundraiser. But how can obstacle course events make any meaningful money for your students? Well, through our powerful, innovative online system we have proven a method that can vastly increase your school's fundraising capabilities while also maximizing your students' and faculty's time. Watch us mix leadership growth lessons with fitness and fundraising in a way that your kids will love! Our school obstacle course takes about an hour for your students to finish so that their classes will be minimally affected. Schedule your obstacle course fundraiser today!
WHAT IS APEX OBSTACLE COURSE?
At Apex Leadership Co. we build tomorrow's leaders today — while simultaneously raising more money for your school with our hassle-free approach for busy volunteers. Our powerful online platform maximizes your time and increases your reach for fundraising, all while our team of athletes does the heavy lifting and teaches PBIS-based leadership lessons. We combine fitness, fundraising and leadership into a powerful united event that builds your funds and your students' character education.
PEP RALLY
This is the start to your Apex Event! The team gets your students pumped on learning about leadership while raising money for your school!
The Apex Pep Rally is a very high energy event where we announce the lessons associated with the year's newly developed theme, prizes, how to get pledges, and announce our Giveback partner.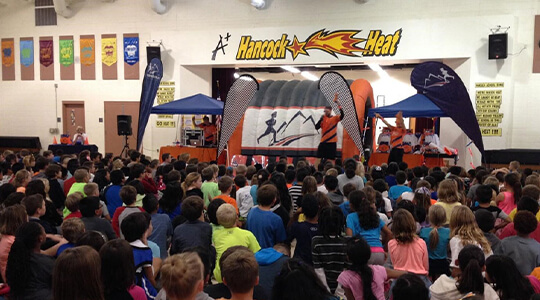 The spirit of the Apex Team immediately fills the room and ramps up the energy around campus! Our team members and team leaders have a huge service heart for children… Their goal every day is to build leaders and change lives.
TEAM DAYS
Each team day is packed full of lessons, team building, and fitness.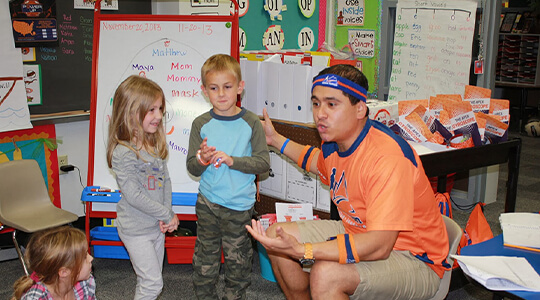 The Apex team visits each classroom for a few minutes to deliver the daily leadership lesson, acknowledge awesome leadership behavior, and reward students. This is a great time for teachers to sit back, enjoy the program, and encourage their students. One of the most important elements of the program is redirecting the attention of the children back to the teacher with the leadership lesson for the day.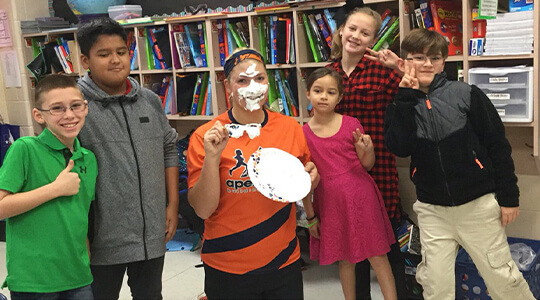 Before the Apex team leaves the classroom, they conduct a quick focusing exercise to ensure the students are refocused on their teacher and prepared to continue their regular lessons.
COURSE DAY
Obstacle Course Day starts before the sun comes up!! The Apex team sets up, volunteers arrive, kids check their laces and get ready to go!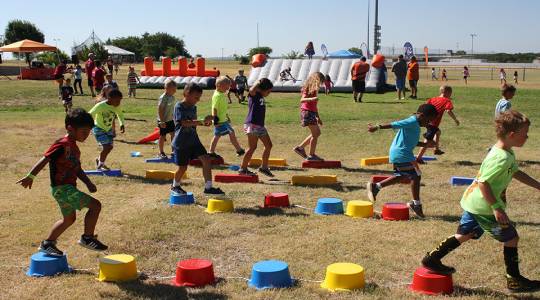 Apex knows how to have a party! Our MC will guide students through fun exercises, dances, and of course the crazy obstacle course. Apex has curated an age appropriate playlist that includes beats from today's newest hits so we really reach kids with what they love! Parents and community members are invited to watch the run and be part of the fun!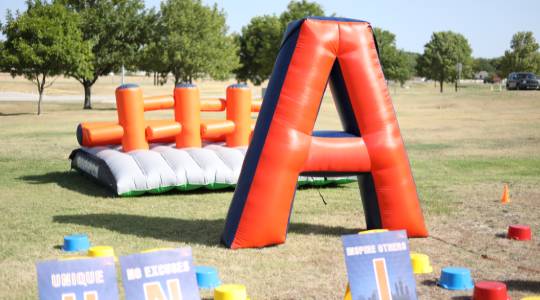 As the Obstacle course ends, students are back in class within the hour. Smiles. Are. Everywhere!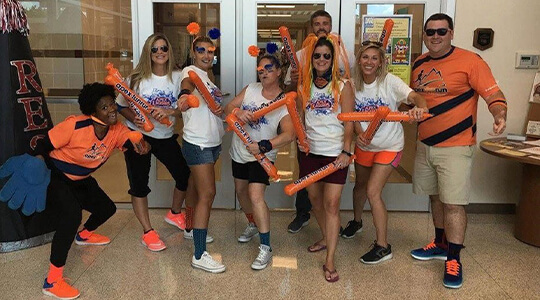 Apex collections are truly hassle-free! We now offer Quick Collect, which has your whole process wrapped up in about a week!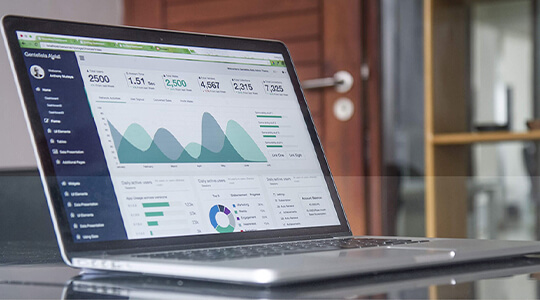 In real time, when money is raised, payments can be deposited straight into your bank account. We also offer alternatives if your school has another preference.
OVER 3 MILLION STUDENTS SERVED AND MORE THAN
$80 MILLION RAISED FOR 5,000 SCHOOLS IN 32 STATES
OBSTACLE COURSE FREQUENTLY ASKED QUESTIONS