SAN ELIJO MIDDLE SCHOOL (CA)
$48,406
For Chrome Books and Tech
Amount profited with previous fundraiser: $23,200
ADAMS MIDDLE SCHOOL (CA)
$18,340
For Library and Technology
Amount profited with previous fundraiser: $9,360
DICKERSON MIDDLE SCHOOL (GA)
$35,710
For Technology, New Track and Fence
Amount profited with previous fundraiser: $17,310
OVER 3 MILLION STUDENTS SERVED AND MORE THAN
$80 MILLION RAISED FOR 5,000 SCHOOLS IN 32 STATES
Ever heard of hosting a color battle to make money for your school? At Apex Leadership Co. we have proven success with our program to raise money for middle schools. On top of this, our robust online system will help maximize your time while also radically increasing the number of donations your school can receive. Watch our team do the heavy lifting during the color battle fundraiser, that incorporates team building and tons of fun including team "battles" that involve safe, non-toxic, and biodegradable safe color.
WHAT IS APEX COLOR BATTLE?
At Apex Leadership Co. we build tomorrow's leaders today — while simultaneously raising more money for your school with our hassle-free approach for busy volunteers. Our powerful online platform maximizes your time and increases your reach for fundraising, all while our team of athletes does the heavy lifting. We combine fun and fundraising into a powerful united event that middle school students rave about!
PEP RALLY
This is the start to your Apex Event! The team gets your students pumped on learning about leadership while raising money for your school!
Students walk into a hyped up area where they learn about how they can get a chance to participate in the schools color battle.
The spirit of the Apex Team immediately fills the room and ramps up the energy around campus! Our team members and team leaders have a huge service heart for children… Their goal every day is to build leaders and change lives.
TEAM DAYS
Each team day is packed full of team building, and challenges.
This is where the real magic happens! The Apex team will be hanging out with the students on campus at lunch, PE, recess. Many Apex members are teachers and coaches themselves, and this is a great time for building relationships and getting kids excited for the big event!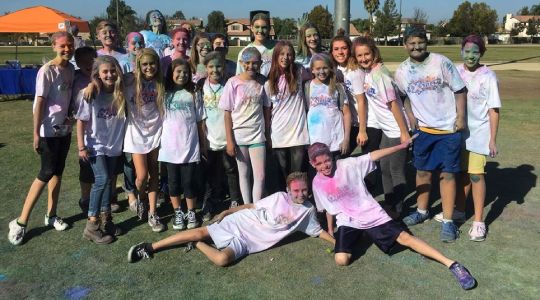 The Apex program was built by educators for schools. So our teams are there to serve the teachers and make sure students are being safe, respectful and responsible. Many of our schools report the highest attendance of the year, and the lowest discipline rates of the year, during our 2-week program.
COLOR BATTLE
Color Battle Day starts before the sun comes up!! The Apex team sets up, volunteers arrive, students receive their color shirts and prepare for the event!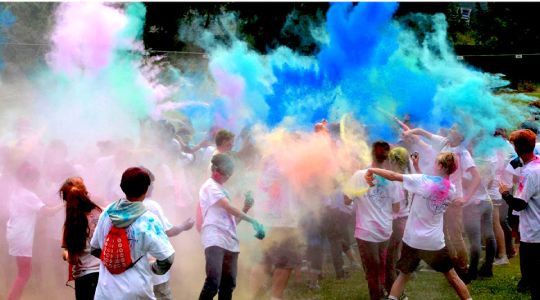 Apex knows how to have a party! Our MC will take students through a fun, upbeat mix of games and competitions. Apex has curated an age appropriate playlist that includes beats from today's newest hits so we really reach kids with what they love! Parents and community members are invited to watch the event and be part of the fun!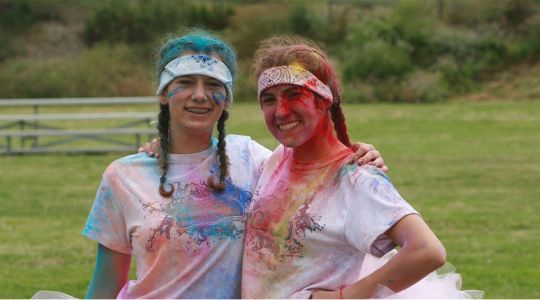 Students will all receive color battle jerseys and take part in several team competitions as they prepare for the grand finale- an all out color battle party! All color is eco friendly, safe and biodegradable.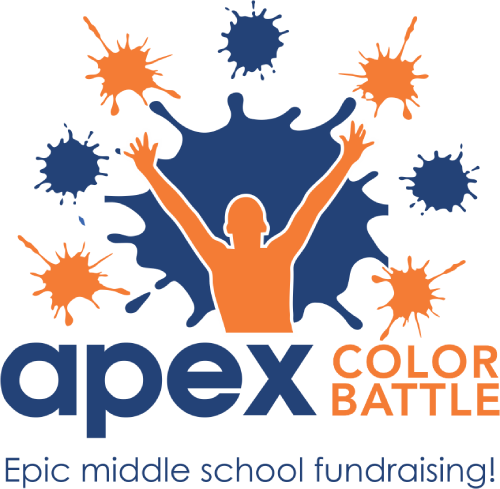 Apex collections are truly hassle-free! We now offer Quick Collect, which has your whole process wrapped up in about a week!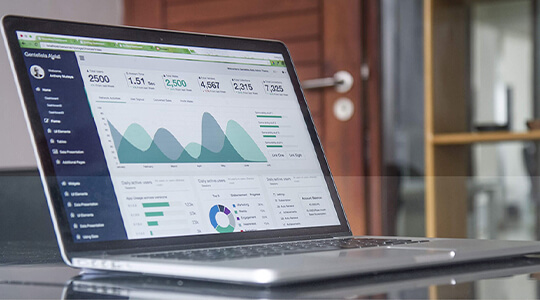 In real time, when money is raised, payments can be deposited straight into your bank account. We also offer alternatives if your school has another preference.
OVER 3 MILLION STUDENTS SERVED AND MORE THAN
$80 MILLION RAISED FOR 5,000 SCHOOLS IN 32 STATES
COLOR BATTLE FREQUENTLY ASKED QUESTIONS